Dolphin Swimming 10.15am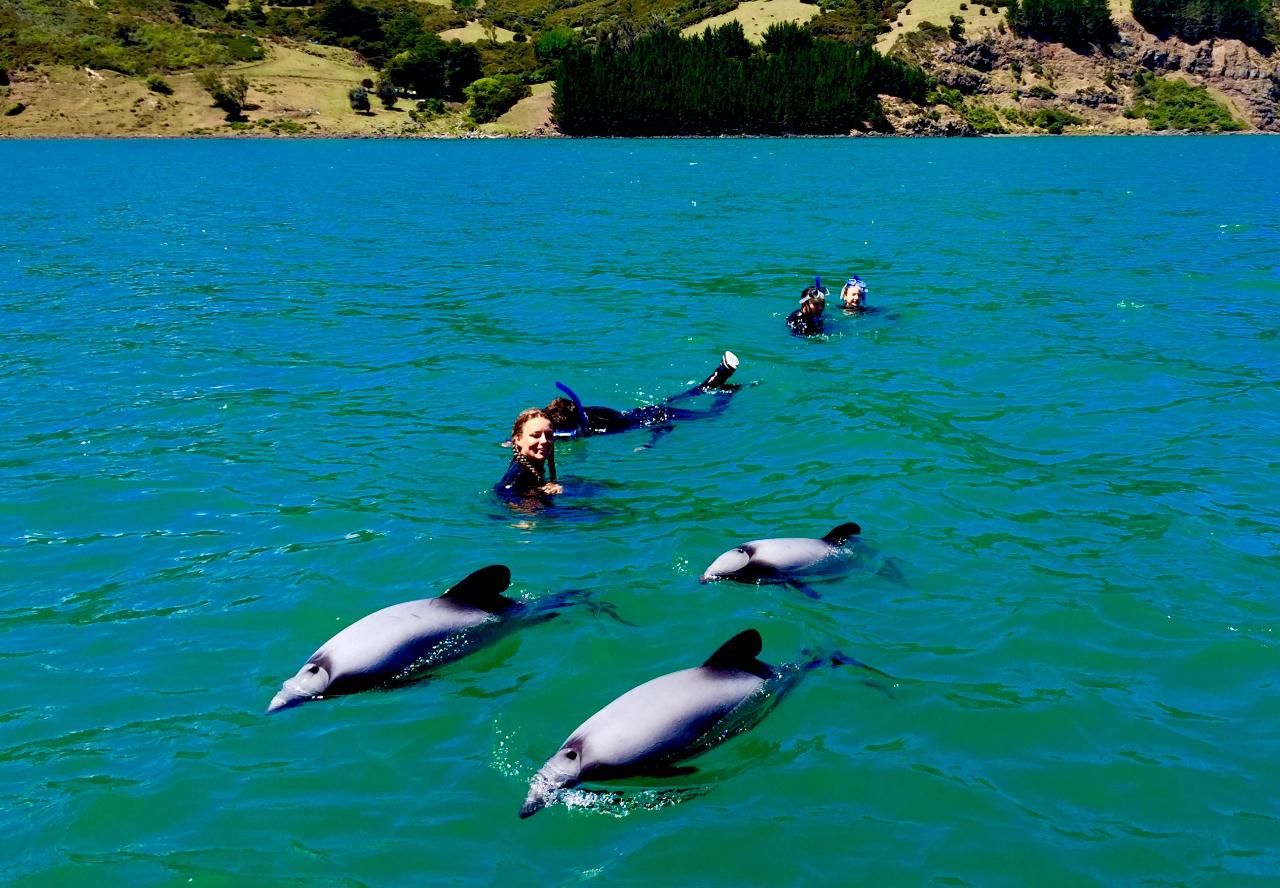 Durata: 3 Ore (aprox.)
Locatie: Akaroa, Canterbury
Cod produs: DS
Welcome to ecoSEAker the smallest Dolphin Swimming/Watching Adventure in New Zealand.

Come and join us, we absolutely love what we do and would greatly appreciate the opportunity to take you on one of our small personal friendly Dolphin swims.

We are a small friendly family owned business who have been in the Akaroa Harbour for 6 generations and operating small Harbour Tours from the Hamilton family farm since 1984. We are now operating from Akaroa township.

Departing from Daly's wharf at 10:30AM daily from the 1st of October to 30th of April.

Your skipper is 5th generation and an experienced dolphin swimming skipper.

Our dolphin swimming tours are longer than other companies so you should allow approximately 3.5 hours for your experience. This gives us more time on the water to gain the encounter with the dolphins.

We will also endeavour to show you the other amazing wildlife and scenery out there as well. New Zealand Fur Seals, White Flippered Blue Penguins, Albatross, other sea birds, Cathedral Cave, Salmon and Mussel Farms also The Akaroa Marine reserve, subject to time and conditions.

Did we mention we are also the smallest operator?

Our boat takes a maximum of 12 swimmers at a time making it a very intimate experience in the water.

What should I bring?
You will need your own swimsuit, bikini, swimming shorts etc and towel.
Bring a water bottle, sun protection, Warm hat and jacket.

Come wearing your swimsuit under your clothing as this speeds up our departure giving us more time on the water, also you will be changing into your wetsuit with other people of the same sex.

Being a small company means we have small footprint therefore more environmentally friendly. It does mean however we don't have a shower onsite but one can be provided nearby.
If you have medication that should be with you at all times you must bring it on the boat with you. Some examples are asthma inhalers, epi pen, pills etc.

Bring a water bottle. Put on sunscreen before you arrive and bring it on the boat if you want to.
Optional things: Sunglasses, sun hat or warm hat and definitely do not forget your camera with a full battery.

What do you supply?

We will give you a thick 5mm full body wetsuit, dive booties, mask and snorkel. After the swim there will be hot chocolate and biscuits to have on the boat or back at the wharf if conditions aren't suitable on the water.

Thank you in advance your skipper Steve Hamilton.